What is the Salesforce Partner Navigator Program?
The Salesforce Partner Navigator Program enables Consulting Partners to differentiate their firm based on customer-validated industry expertise, Salesforce product knowledge, and customer success. CloseContact has been Salesforce Partner since 2015 and currently holds Navigator Specialist II status for Marketing Cloud with 4 specialisations: Einstein for Marketing, Core Messaging/Journeys, Advertising Studio and Social Studio. In addition, we are Level I Industry Specialist in Retail with a specialisation in Apparel, Footwear, Accessories, & Speciality.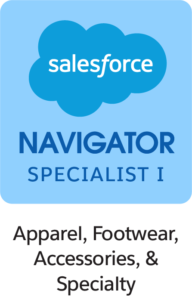 Visit  our listing at Salesforce for an overview of our specialisations and expertise, information about the number of certified employees, completed projects and client reviews.
With our unique combination of Salesforce specialisations, we can assist you with data optimisation, planning your marketing strategy and effectively managing all kinds of campaigns. With our strategic partners VANEIGENS and Yourzine, we are able to offer a complete cross-cloud package.
Browse through the cases on this website to learn more about the successful projects we executed for our international clients.
Make the most of your Marketing Cloud!
We invest a lot of time and energy in education, and not just for our employees. CloseContact also offers instruction to our clients. If you are a Salesforce Marketing Cloud user, we will make sure you get the best results from it with our tailormade and hands-on training.
If you are interested in more in-depth articles on the technical aspects of the Marketing Cloud, visit our blog Marketingcloud.today. Here, we regularly publish about the implementation of Marketing Cloud features and periodical updates of the platform.
You are always welcome to contact us with any questions the Salesforce Marketing Cloud, our training program, and the cross-cloud solutions we offer together with our partners. We're always happy to talk to you!